Send me alerts every days
Project Technical Lead (PV) - Oakville
Dufferin Construction - a division of CRH Canada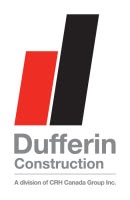 Job ID: 155308
Work Type: Full Time Permanent
It is a great time to join the CRH Canada team! CRH Canada is going through an exciting business transformation which demands first-class Talent Management support to drive results.

We are building a world- class team. Make your mark!

You will be a successful addition to our team if you look at change as an opportunity to develop and contribute to the business. You will be successful in your role if you like partnering with the business, presenting new ideas and providing excellent customer service.
PARTNERSIP VENTURES PROJECT TECHNICAL LEAD
Job Description: #LI-SS1
Under the direction of the Partnership Ventures Bid Managers, a Partnership Ventures (PV) Project Technical Lead will work collaboratively with the project team to evaluate and develop the project scope, help manage and analyze the project design for constructability and compliance and help develop the optimized technical solution for the project at pursuit stage. The PV Project Technical Lead will work on Alternative Delivery Model (ADM) projects, including Design-Build or PPP/AFP projects. This will often include working within a project-specific joint venture partnership with multiple external firms during an RFP pursuit. Given partner firms may also be competitors in the traditional procurement space, a thorough understanding of competition laws and practices is required. The PV Project Technical Lead will report to one of the Bid Managers. The PV Project Technical Lead will make responsible independent decisions on normal matters related to their duties within company policy and guidelines.

Job Duties:
Within a project team environment, take on a supporting Project Management role which includes the management of Professional Engineers, subcontractors and or material suppliers

Independently research assigned scope elements and develop details for quantification and estimating purposes through research and review of all project documentation, specifications and industry best practices. The approach to this task requires resourcefulness and creativity that is balanced with logic and reasoning.

Act as communication lead for an assigned scope within a team environment (partner meetings) and will take on the full and complete responsibility of the assigned scope elements including being responsible for communication with the Team Lead with respect to all issues and opportunities related to the scope.

Coordinate with the design team in analyzing the design elements and drawings specific to their assigned scope. Evaluate the design based on constructability and compliance with relevant codes, standard and specifications and evaluate the design for completeness and/or opportunities for compliant cost saving changes.

Participate in the completion of the project risk analysis related to their assigned scope including an independent preparation of contingency budget items.

Participate in the development of the written technical proposal where thorough understanding of company polices and best practices is required.
Contribute information (staging, sequencing, logic) for use in the preparation of project schedules.

Complete the technical evaluation and price evaluation of design alternatives including ensuring specification compliance

Evaluation and preparation of plans for site access and identification of work restrictions

Review and evaluation of project contract documents including review of commercial terms, technical specifications, etc.

Review and negotiation of other project contracts including teaming agreements and services agreements with designers, subcontractors and partners.

Participate in project client meetings including preparation of content and presentation materials

Development of construction management, site access plans for technical submission

Participate in development of cost calendarization for payment schedule

Mentor and monitor junior staff, acting as a coach and role model
Educational Criteria
Civil engineering degree or diploma with a minimum of 7 years of construction related experience, or an equivalent combination of education and related experience.

7+ years' experience in construction

1+ year in estimating

Position Dimensions (i.e., communication skills, planning, teamwork, technical knowledge, leadership, initiative)
Excellent interpersonal, communication and leadership skills

Ability to work in a team setting

Ability to make timely, yet effective decisions

Ability to work under pressure and adaptable to change

Strong planning and organizational skills

Excellent problem solving and troubleshooting experience

Able to help build a cohesive team

Able to facilitate the collaboration of people and cross functional groups

Strong computer literacy

Strong technical writing abilities

A thorough understanding of civil engineering principles, construction methods and practices, industry best practices and industry related standards and specifications.
Visit our website for more information: http://www.crhcanada.com
CRH Canada Group Inc. recognizes Canada's diverse landscape. Accommodation is available upon request for applicants with disabilities throughout the recruitment and selection process.

Job Segment: Engineer, Procurement, Project Manager, Civil Engineer, Technical Writer, Engineering, Operations, Technology