Send me alerts every days
Traffic Control Supervisors (Finch West LRT) - Woodbridge 1
Date: Aug 20, 2019
Location: Woodbridge, ON, CA
Company: CRH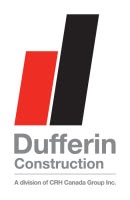 Job ID:  153820 
Work Type:  Full Time Permanent 
It is a great time to join the CRH Canada team! CRH Canada is going through an exciting business transformation which demands first-class Talent Management support to drive results.

We are building a world- class team. Make your mark!

You will be a successful addition to our team if you look at change as an opportunity to develop and contribute to the business. You will be successful in your role if you like partnering with the business, presenting new ideas and providing excellent customer service.
Dufferin Construction Company, a division of CRH Canada Group Inc. established in 1912, is one of the largest heavy civil engineering contractors in the industry, and we are continuing to grow! Due to continued and rapid growth within our Joint Ventures department, we are looking for a Traffic Control Coordinator on the Finch West LRT. This position is based out of the project office at Woodbridge, ON.
Responsibilities: #LI-SS1
Directing all traffic control operations on the Site and coordinating with other contractors working on the Project

Maintaining direct line authority over all of Project Co's traffic control personnel and procedures on the Site

Liaising with the City, TTC, the Contracting Authority and MTO, as required

Recording the actual duration of lane closures, full closures, detours and lane shifts and unauthorized traffic delays and forwarding this information, on a daily basis, to the Contracting Authority for information and appropriate action

Monitoring queue lengths in active Sites and implementing appropriate measures when such queues affect the operation and safety of existing transit services, existing municipal roads and other provincial and municipal roadways

Monitoring of transit travel times and raising operational performance issues to the Traffic Manager and Transportation Management Committee.

Responding to traffic-related incidents resulting from construction activities and traffic management activities. All major incidents shall be documented within 48 hours of the incident and provided to the Contracting Authority and the City and documenting traffic control measures and activities in accordance

Overseeing all requirements of this Project Agreement that contribute to the safety, convenience, and orderly movement of vehicular, cycling and pedestrian traffic; and attending regularly scheduled traffic management meetings

Able to be available on a 24 hours-a-day basis when construction activities are underway

Qualifications:
Five to Ten years' minimum experience working in traffic supervision

Experience working in a construction environment is a requirement

Networks and relationships with GTA subcontractors is a plus

Post-secondary education and/or work experience in a related field

Sound knowledge of MS Office suite, including Word and Excel

Knowledge of traffic best practices, traffic regulations, and conditions is required

Results oriented with the ability to effectively manage and multi-task priorities, timelines and deadlines in a fast paced environment

Exceptional time management skills and the ability to work independently and as part of a team

Why work for us?
With parent companies in the U.S. and Ireland, your growth potential is limitless!

Work with a team of dedicated professionals who are there to support your professional growth!

Flexible benefits plans, Defined Contribution pension plan, annual bonuses and merit-based increases ensure that your hard work and dedication will be rewarded!
Visit our website for more information: http://www.crhcanada.com
CRH Canada Group Inc. recognizes Canada's diverse landscape. Accommodation is available upon request for applicants with disabilities throughout the recruitment and selection process.

Job Segment: Engineer, Civil Engineer, Engineering