Engineer in Training (EIT) - Paris
Dufferin Aggregates - A CRH Company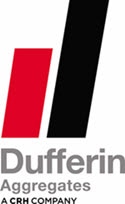 Job ID: 488402
Work Type:  Full Time 
It is a great time to join the CRH Canada team! CRH Canada is going through an exciting business transformation which demands first-class Talent Management support to drive results.

We are building a world- class team. Make your mark!

You will be a successful addition to our team if you look at change as an opportunity to develop and contribute to the business. You will be successful in your role if you like partnering with the business, presenting new ideas and providing excellent customer service.
Who we are
Recognized as one of Greater Toronto's Top 100 Employers, Dufferin Aggregates is a leading supplier of aggregates for the construction industry in Ontario. We operate more than 20 sites, including quarries, sand pits and distribution yards to supply crushed stone, sand and gravel, recycled crushed concrete as well as recycled crushed asphalt, for the commercial, industrial, residential and civil engineering sector.
We are a member of CRH plc, a global building materials company with a proud and successful history, a strong track record of performance and a clear commitment to safety and ethical business practices. The company employs over 90,000 people in 37 countries around the world.
Position: Engineer in Training (EIT)
Location: Brant, ON (Paris Pit  and required to travel to other quarries on occasion)
Term: Full-time Opportunity (Benefits & Pension included)
Position Responsibilities:
Ensure compliance with the Occupational Health & Safety Legislation and Dufferin Aggregates Health & Safety policies and procedures

Ensure that the necessary Health & Safety training is carried out in accordance to legislative & the CRH Canada requirements

Implement and maintain production/maintenance schedules and communicate progress regularly to management and hourly employees

Maintain budgeted operating costs, forecasting and communicate progress regularly to management and hourly employees

Coordinate the production process to balance inventories to meet sales targets and customer needs

Create and implement short and long term mining and rehabilitation plans

Represent Dufferin Aggregates during site visits by the Government agencies

Support the property department with efforts to provide necessary rehabilitation to the site in accordance with the approved site plans

Assist the Site Manager/Superintendent with special projects and company initiatives

Manage the produced product inventories

Employees may also be assigned other work as required
Educational Criteria:
University degree with discipline in Civil, Mining Engineering or Engineering Technology preferred
Position Requirements (Experience, Technical Expertise):
1 to 2 years of relevant experience is preferred

Sound knowledge of OH&S policies, procedures and regulations

Computer literate for all MS Office (incl. MS Project) SAP Business Program and AutoCAD would be an asset

Ability to work in an outdoor environment, with frequent exposure to heat and cold
Position Dimensions (Core Competencies)
Strategic Vision - Displays a good understanding of key aspects of own organization's mission and strategies
Analysis and Problem-Solving  - Breaks down problems into manageable components to gain a better understanding of the issues
Business and Financial Acumen - Generally draws accurate conclusions from financial and quantitative information.
Manages Execution  - Makes efficient use of time, modifying own work activities and methods to eliminate wasted effort as needed
Leads for Performance  - Acts independently and with self-reliance; takes the initiative to resolve difficult issues and problems when they arise
Customer Focus - Shows general understanding of who one's customers are, and how one's role is important to customer satisfaction.
Supports Action, Change and Innovation - Shows support for others who take appropriate risks.
Communicates - Shares information and viewpoints openly and directly with others.
Engages and inspires - Demonstrates a sense of optimism, ownership, and commitment.
Cultivates Relationships and Networks - Relates to people in an open, friendly, and accepting manner, respectful to others, regardless of their role.
Fosters Teamwork and Cooperation - Takes opportunities to collaborate with others when they arise; displays openness to the ideas and input of others.
Adapts and learns - Shows openness to new ideas, assumptions, and opportunities.
Stay in touch with the latest on industry news and new opportunities. Follow us on Twitter, LinkedIn and Facebook or visit our website for more information: http://www.crhcanada.com
CRH Canada Group Inc. recognizes Canada's diverse landscape. Accommodation is available upon request for applicants with disabilities throughout the recruitment and selection process.

Job Segment: Construction, Civil Engineer, Drafting, AutoCAD, CAD, Engineering