Dufferin Aggregates - A CRH Company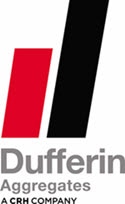 Job ID:  458159 
Work Type:  Full Time Permanent 
It is a great time to join the CRH Canada team! CRH Canada is going through an exciting business transformation which demands first-class Talent Management support to drive results.

We are building a world- class team. Make your mark!

You will be a successful addition to our team if you look at change as an opportunity to develop and contribute to the business. You will be successful in your role if you like partnering with the business, presenting new ideas and providing excellent customer service.
Dufferin Aggregates, a divison of CRH Canada is looking to hire!
Who we are
Recognized as one of Greater Toronto's Top 100 Employers, Dufferin Aggregates is a leading supplier of aggregates for the construction industry in Ontario. We operate more than 20 sites, including quarries, sand pits and distribution yards to supply crushed stone, sand and gravel, recycled crushed concrete as well as recycled crushed asphalt, for the commercial, industrial, residential and civil engineering sector. 
We are a member of CRH plc, a global building materials company with a proud and successful history, a strong track record of performance and a clear commitment to safety and ethical business practices. The company employs over 90,000 people in 37 countries around the world.

Position: Mechanic-Fleet
Term: Permanent
Location: Milton
Start Date: ASAP
Wage: $36.71

Responsibilities:
Under the general direction of the Site Superintendent and Foreman, you will perform shop and field work and perform the following duties:
Responsible for providing maintenance and repairs to the Dufferin Aggregates fleet of light-duty trucks and equipment at the Milton Quarry. This includes ordering required parts, removal, rework and installation of various engine and chassis components, as well as performing maintenance schedules.
•    Adhere to all Operations policies and procedures
•    Reading electrical and hydraulic schematic is an asset 
•    Basic knowledge of the construction industry is an asset
•    Other duties as assigned
 
 Experience & Educational Criteria:
•    310S or 310T mechanic license is required
•    Basic knowledge of truck and heavy equipment operation
•    Working knowledge of related maintenance and repair practices
•    Working knowledge of diesel engines, hydraulic pumps, motors, and air brake systems
•    Fabrication and welding skills
•    Knowledge with on and off-road computer systems
•    Full G License required
 
Working Conditions:
•    As per CBA, 45 hours per week and may be required to work overtime, nights weekends, based on operational requirements   
•    Daily exposure to construction environment i.e., heavy equipment, oncoming traffic, inclement weather (heat, cold, rain etc.) 
 
What Makes a Successful Candidate?
•    Must be self-motivated and work independently
•    Must have ability to follow directions and effectively perform the work
•    Must be able to maintain a clean safe work environment in and out of shop 
•    Maintain a consistent, high level of productivity 
•    Takes immediate and independent action to resolve issues or problems when they arise.
•    Safety oriented
•    Communicates effectively
•    Ability to work in a fast-paced environment and be reliable well under pressure
•    Ability to deal with multiple tasks and prioritize work effectively
•    Team oriented
•    Flexibility to perform other duties as assigned
 
Why work for us?
•    We recognize safety as our top priority and support that through our COR certification and Annual Safety recognition awards
•    With parent companies in Concord, the US and Ireland, your growth potential is limitless!
Visit our website for more information: http://www.crhcanada.com
CRH Canada Group Inc. recognizes Canada's diverse landscape. Accommodation is available upon request for applicants with disabilities throughout the recruitment and selection process.

Job Segment: Construction, Hydraulics, Civil Engineer, Transportation, Maintenance Mechanic, Engineering, Operations, Manufacturing