Construction Coordinator (Finch West LRT) - Woodbridge
Dufferin Construction - a division of CRH Canada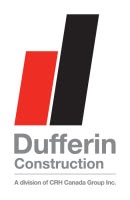 Job ID:  147169 
Work Type:  Full Time Permanent 
It is a great time to join the CRH Canada team! CRH Canada is going through an exciting business transformation which demands first-class Talent Management support to drive results.

We are building a world- class team. Make your mark!

You will be a successful addition to our team if you look at change as an opportunity to develop and contribute to the business. You will be successful in your role if you like partnering with the business, presenting new ideas and providing excellent customer service.
The Finch West LRT is a light rail transit project that will bring 11 kilometres of modern, reliable rapid transit to northwest Toronto. It will have 18 stops, including 16 surface stops, plus an underground interchange station at Finch West (connecting to the new Toronto-York-Spadina Subway Extension), and one below-grade terminal stop at Humber College, connecting to other local transit services like GO, Miway, Viva, and Zum. It will provide rapid transit for the Jamestown, Rexdale and Black Creek neighbourhoods, providing vital connections between communities and supporting growth in northwest Toronto.
As a key partner in the Finch West LRT project, Dufferin Construction, a division of CRH Canada is looking for Construction Coordinators to join the team!   We are one of the largest heavy civil engineering contractors in the industry, employing over 1000 people. We have built a solid reputation for market excellence, through drawing on a rich history and a strong heritage of quality, stability and innovative leadership in the marketplace.
Position Responsibilities:
Assist the Project Superintendent in planning, coordinating and supervising construction activities including crew and equipment

Ensure compliance with the Occupational Health & Safety Act and Regulations for construction projects by implementing the Company's OH&S management system

Maintain and manage plans, specifications, cost, and material estimates, subcontract and related reports

Establish, monitor and initiate updates to, construction work schedules

Maintain accurate cost control plans by entering daily units of completion and processing time cards and material packing slips for payment and cost control updates

Coordinate proper procurement of construction materials ensuring timely delivery and accuracy of purchase orders

Expedite progress payment certificates, final payment certificates and all extra work orders as per contract

Calculate all productivity and material yields

Arrange and conduct construction field services as required

Maintain diary for each project on a daily basis

Employees may also be assigned other work as required 
Educational Criteria:
 Civil Engineering Degree or Civil Engineering Technologist or Technician Diploma and related experience
Working Conditions:
 Standard 50 hours per week, will be required to work overtime and night shifts based on operational requirements  

 Working on a job site, from a construction site trailer

Travel to/from/within jobsite(s)

Daily exposure to construction environment i.e. heavy equipment, oncoming traffic, inclement weather (heat, cold, rain etc.) 
Position Dimensions:
Valid full class G drivers license

Relocation would be the responsibility of the applicant   

Demonstrates a sense of urgency and strong commitment to achieving goals and objective

Focused on details, highly organized and works effectively with shifting priorities and rapid change

Effectively examines events, issues and problems to generate optimal solutions in a timely manner

Communicates with impact and creates an environment in which people communicate openly and honestly 

Fosters teamwork and cooperation with a strong ability to work with a highly functional team of experts

Strong computer skills (Microsoft Office)  
Dufferin Construction builds careers. Our door is always open to hire highly skilled and motivated individuals who want to develop to their full potential while playing a key role in our future plans.  Solid growth opportunities are available that provide progression from entry level to senior management positions.  Our growth and development strategy involves defined practical experience in project management, augmented with annual training programs to accelerate career progression.
Visit our website for more information: http://www.crhcanada.com
Date Posted: 
Oct 15, 2020

Job Segment: Construction, Engineer, Procurement, Civil Engineer, Project Manager, Engineering, Operations, Technology