Send me alerts every days
Construction Quality Coordinator - Electrical and LRT Systems - Woodbridge
Dufferin Construction - a division of CRH Canada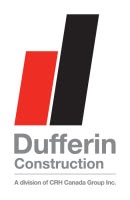 Job ID:  160606 
Work Type:  Full Time Permanent 
It is a great time to join the CRH Canada team! CRH Canada is going through an exciting business transformation which demands first-class Talent Management support to drive results.

We are building a world- class team. Make your mark!

You will be a successful addition to our team if you look at change as an opportunity to develop and contribute to the business. You will be successful in your role if you like partnering with the business, presenting new ideas and providing excellent customer service.
Dufferin Construction Company, a division of CRH Canada Group Inc. established in 1912, is one of the largest heavy civil engineering contractors in the industry, and we are continuing to grow!  Due to continued and rapid growth within our Joint Ventures department, we are looking for a Construction Quality Coordinator – Electrical and LRT Systems. Based out of the Woodbridge, ON project office, this position will report to the on-site Construction Quality Manager.
You will be a successful addition to Dufferin Construction if you:
Enjoy working in a fast-paced, team environment.
Have a solid background in providing exceptional customer service to both internal and external stakeholders.
Responsibilities:     CRH18    #LI-SS1
Understand Occupational Health and Safety standards, performance objectives & targets.
Responsible for inspection and testing requirements as set out in the Construction Quality Management Plan (CQMP).
Working knowledge of construction, inspection and testing requirements required for Electrical and LRT Systems.
Review and define the project scope and ensure compliance with contract specifications during the execution and closing phases.
Create and review Inspection Test Plans relevant to construction activities and applicable specifications and standards.
Initiate, distribute and oversee implementation of Inspection, Test Plans (ITPs)
Monitor construction processes to minimizing potential risks.
Identify and report non-conformances.
Involved in development of corrective action strategies.
Supervise and coordinate Quality Assurance testing personnel and resources.
Monitor workmanship and materials for conformance to contract requirements. Some key components of work include Electrical Work, Traffic / Transit Signals and LRT Systems.
Coordinate QA sampling of construction materials for acceptance
Coordinate and monitor inputs from other professionals; Quality Verification Engineers, Consultants, Environmental, Designer and subcontractors.
Liaison between client, external stakeholders and Mosaic Transit Group
Provide guidance to ensure efficiency, quality, service, and cost-effective management of resources.
Understand and operate in accordance with company programs, policies and legislative requirements to ensure that environmental standards and performance objective targets are met.
Qualifications:
Electrical Engineering Degree or Electrical Engineering Technologist/Technician Diploma with related experience
Certificates of training and 5 years of experience on transit construction projects 
Position Dimensions:
MS Office Applications
MS Outlook
Tech-savvy – On site communication and information input using a tablet
Knowledge of current construction industry practices, specifications and regulations relating to Electrical, Traffic Signals and LRT Systems, typically obtained through relevant education and experience.
Demonstrate and foster a sense of urgency and strong commitment to achieving goals
Effectively examine events, issues and problems to generate optimal solutions in a timely manner
Focus on details, highly organized and work effectively with shifting priorities and rapid change
Work from a construction site office
Daily exposure to construction environment i.e. heavy equipment, live traffic and inclement weather
Travel to/from/within jobsite(s)
Flexibility to work nights, overtime and weekends
Must have a valid G Driver's license in good standing
Why work for us?
With parent companies in the U.S. and Ireland, your growth potential is limitless!
Work with a team of dedicated professionals who are there to support your professional growth!
Flexible benefits plans, Defined Contribution pension plan, annual bonuses and merit-based increases ensure that your hard work and dedication will be rewarded!
Visit our website for more information: http://www.crhcanada.com

Job Segment: Construction, Engineer, Electrical, Quality Assurance, Electrical Engineering, Engineering, Technology